Nearby Jewish Cultural Historical Heritage in Amsterdam, Utrecht, Maarssen and Breukelen Hilversum.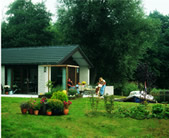 Bungalowpark Rien van den Broeke Village offers holiday homes matching the highest standards in personal modern amenities. The unique setting in the Central of the Netherlands and directly at the Loosdrecht Lakes (the Loosdrechtse Plassen) between Amsterdam and Utrecht (All major locations including Schiphol can be reached within 30 minutes), the high number of contemporary holiday homes with Mediterranean accents and many modern conveniences, will make sure that even the most discerning resident will feel right at home here. Not only the holiday park, but the individual service in leasing deluxe holiday homes as well, is completely attuned to the privacy of its demanding guests.
"The Ann Frank House, Jewish Historical Museum, the Jewish Children's Museum, synagogues, Inter Provincial Chief Rabbinate synagogues including the Holy Ark in Utrecht, kosher restaurants, delis, supermarkets, butchers etc. can be reached within 30 minutes"
Last minute offer:
50% discount for a stay in the period until the 29th of June.
Special Offer:
35% discount on a stay from the 29th of June until the 31st of August.
15% discount on a stay after the 31st of August.